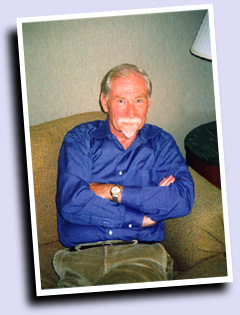 Donald Barton Johnson is a Professor Emeritus of Russian in the Department of Germanic & Slavic Studies at the University of California, Santa Barbara. He is the author of the linguistic study Transformations and their Use in the Resolution of Syntactic Homomorphy (Mouton, 1970), the groundbreaking study Worlds in Regression: Some Novels of Vladimir Nabokov (Ardis, 1985), and Vladimir Nabokov and the Art of Painting (Amsterdam UP, 2006) with Gerald de Vries.
He also published chapters on Nabokov in A Book of Things About Vladimir Nabokov, The Garland Companion to Vladimir Nabokov, Nabokov at Cornell, A Small Alpine Form: Studies in Nabokov's Short Fictions, Critical Essays on Vladimir Nabokov, Nabokov and His Fiction: New Perspectives, and Discourse and Ideology in Nabokov's Prose. He authored numerous articles on Vladimir Nabokov in leading literature, linguistics, and Slavic studies journals, as well as organs for Nabokov scholars, such as the Vladimir Nabokov Research Newsletter, The Nabokovian, Nabokov Studies, and the Zembla website. Johnson also published articles on other Russian modernists and edited a special issue of Canadian-American Slavic Studies in honor of Sasha Sokolov in 1987.
Johnson served as a leading figure of Nabokov studies for many years, twice as the president of the International Vladimir Nabokov Society. He also created NABOKV-L, the Electronic Nabokov Discussion Forum, based out of UCSB. He founded the annual print journal Nabokov Studies, which awards the Donald Barton Johnson Prize in his name for the best essay in Nabokov Studies.